Eight kinds of maintenance methods of pearl necklace
Author:Meilanxuan
Source:fashionjewelryfactory.com
Release on :2017-12-29
Which woman does not like pearl necklace at any time? Our "People's Princess" Diana is a loyal supporter of the pearl necklace, she can wear all over the pearl everywhere, each has its own unique flavor!Although the pearl necklace beautiful, but you know how it should be maintained? If you usually do not pay attention may no longer be as beautiful as the beginning, then Jewelry design supplier china give you a summary of the maintenance methods of the pearl necklace, the collection always useful when!
Not near tap water
Do not remember to use tap water to wash the pearl necklace. Because tap water can mostly contain hypochlorous acid as a disinfectant to get into the pearl's pores, it is not only difficult to dry, but it may also ferment the inside of the hole and the beads slowly turn green. If you are wearing a pearl necklace sweating, take it off with a soft towel carefully wipe clean, dried and saved.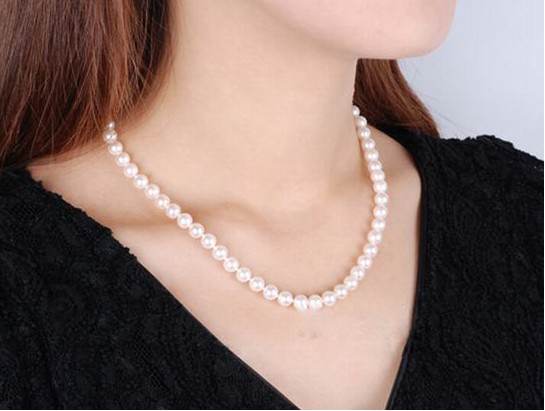 Keep away from the kitchen
Due to the tiny pores on the surface of the pearl, it is not advisable to let it inhale the pollutants in the air. Such as hair gel, perfume and other substances. So do not be beautiful, wearing a pearl necklace to do the hair or do the housework in the kitchen, cooking, fumes and steam have a pearl penetration.
Sheepskin wipe
Wear the best practical pearl necklace clean sheepskin, and then into the jewelry box, do not use ordinary tissue paper to rub, it is possible to clean the pearls wear.
Do not seal
Do not pearl long-term block inside the safe, it is not appropriate to use tape seal, it will lead to pearl yellow fade. Because the pearl needs fresh air, remember to put it on for a few months and breathe the air.
Three years change line
Pearl necklace is best to re-string every three years, for a line. Pearls holes in the dirt will produce friction, so that the nylon line becomes fragile and easy to break.
Cleaning pearl
When the pearl stains appear, you can use a pair of glasses or camera lens soft velvet wipe, or lens paper cleaner generally use mineral water, distilled water, anhydrous alcohol or hot water, do not rinse with tap water.
Pearl necklace storage
Avoid exposure to the sun, damp, and health ball and camphor and other items stored together. When not wearing a pearl necklace, store it in a dry box with soft, clean flannel, and keep it in a safe place.
To reproduce the gloss
Some pearl necklace passed down from home, because of the long time, will turn into a dusky yellow. How to make it reproduce luster?
For just the yellow pearl surface, it can be placed in 1% -5% diluted hydrochloric acid or hydrogen peroxide slightly soaked. Pending yellow shell was dissolved, quickly remove the pearl, washed with water, dried, pearl can be reproduced brilliant! But please remember not to soak for a long time.
Want to get more information, you can click Meilanxuan Fashion costume jewelry manufacturer.